Property in Byala
Byala is a small coastal town with a population of 2500 people located on the border of the Northern and southern parts of the black sea. Forests on one side and rocky bluffs of the Stara Planina, with its many bays on the other, give rise to a special spirit of this area.
Mountain and sea views, merging together, creating picturesque scenes of nature in this pristine corner of the globe. There has never been an industrial production.
Infrastructure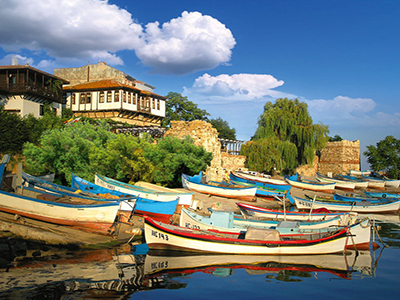 Byala fluttering, promising a seaside resort with excellent infrastructure and a wide range of entertainment facilities: water skiing, diving, surfing, aquaplane, jet skis and more. There are first class hotels, restaurants, cafes.
The resort is 60 kilometres from the major city of Varna and 80 km. from Bourgas. The nearest resort complex "Review" is located 6 kilometers from the city.
Since ancient times, the city is known for its magnificent vineyards and wine production, wine Dimyat. In local tasting rooms you can enjoy red and white wines.
Natural features
Sandy beaches with Golden velvet sand, facing East, North and Southeast allow you to enjoy the gentle sunlight throughout the day. Quiet, cozy atmosphere allows you to get away from the bustle of the world and at least for a time to put everything aside for later.
Comfortable Maritime climate, with average summer air temperature 25-27 degrees, water 23-25 degrees, as well as the prevalence in the atmosphere, fresh sea breezes without allergens, great for healing and restoring vital energy of the body, treatment of diseases of the upper respiratory tract, asthma and allergies.
In view of this, buy a cheap property in Bulgaria on the black sea coast of Byala - a wise decision.